TEMPLE  OF SENSES

 Most of the time we are trained to judge and act according to our physical, visual sensations. Tantra is a world that begins within us. To enter the temple of the senses, it therefore makes sense to wear a blindfold. Only in this way will you be able to enter this wondrous, mysterious, powerful, healing and beautiful world.
Dive deep into a magical dream world and let yourself be inspired. We gently open your senses in a specially prepared and protected temple room. Enjoy the warm atmosphere and become more and more a part of the whole.
Clothes are stored and guarded in a specially equipped cloakroom. Initially, forms of touch guided by the temple servants are increasingly dissolved: Rituals of veneration, touch, sensuality and eroticism can turn into completely unintentional, individual encounters. But you can also stay for yourself, enjoy the atmosphere, dive deeper and simply relax.
The offer is aimed at women, men and diverse people and is open to all kinds of sexual orientation. The visitors of this event always sound out anew when they want to observe / watch and when they want to participate / create. Let's get the boundaries flowing together.
The task of the temple servant is to animate, seduce and celebrate sensual encounters. The rituals led by us give the temple servant*in the framework to delay a possible, erotic encounter for a long time. 
When registering, please indicate whether you are coming as a temple servant or as a visitor.
Phase 1 Introduction to Tantric Rituals for Temple Servants
1. introduction to the topic and hints on how to deal with boundaries
2. rituals of encounter and touch
3. spontaneous and creative role play
Phase 2 Temple of the Senses
4. welcoming the visitors
5. blind leading into the temple
6. sense and touch rituals
Friday  14.04.2023 
14.4.2023 von 20:00 – 00:30 
Admission of temple attendants at 17:45
Admission of visitors at 19:45 hrs.
Location: Diamond Lotus Tantra Institute Bautzenerstr. 3 Berlin-Schöneberg
Prices:      30 € temple servants (20 € social price)
                   40 € visitors (30 € social price)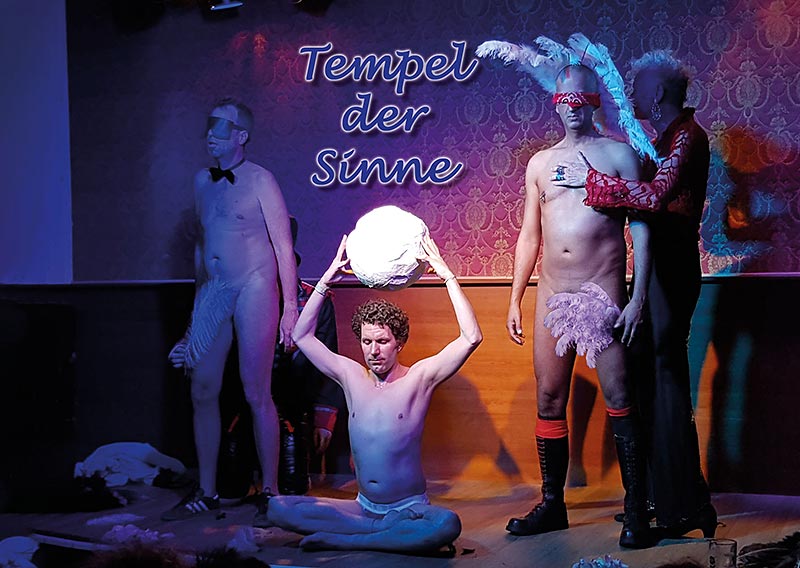 In this event you can try out the whole variety and experiment with the combination of male and female, free of gender. 
We have already performed the TEMPLE 4 times in a larger format with stage show. Since then, a small presentation consisting of poem, song, strip and dance is a fixed component. 
Here you have as a temple servant*in also the opportunity to bring you with your special talent. We will gladly prepare a small scene together with you
Ritual of open the senses
The event begins with a welcome of the visitors in our salon with a small cocktail bar.  Each visitor is taken with a blindfold into the temple of the senses (approx. 70 sqm).. In the long sensory ritual (hearing, smelling, tasting, feeling) the sensual encounter is gently built up.  At first the rituals are performed in standing position, then in the course also sitting in the "Living Chair" or lying down is possible. In a later phase of the ritual, small experiential journeys are created – also with several temple servants.  As a temple servant you will learn different rituals of touch and worship and how to fill them with your energy and creativity. The special thing is that you will not only serve and give during the evening. A role reversal and a subsequent merging of all energies, lead to the common, crowning conclusion. 
Direction 
Kim Berlin  /   Tantric masseur and trainer
Dieter Rita Scholl / Performing Artist – Actor/Actress  in TV ("Babylon Berlin") and Movie("Bruma") –Chansons