Queer Tantra
Especially If you are man on a quest…
Let's try together to free energy and consciousness – no matter what your body looks like, with what cultural background or how old you are. Learn about Tantra as a powerful tool that offers you endless possibilities to explore the connection with yourself and men of any sexual identity.
This Tantra workshop goes far beyond playing with sexual energy and sensitivity. The focus here is clearly on change and personal growth.
Methods from role play will bring out your dreams, longings and fantasies. Tantric rituals and symbols give you the necessary spirit and support. Try everything out in a protected environment and then bring it to the stage of your life after the workshop.
You can identify as a straight man and still participate in the workshop as long as you feel comfortable being around queer people.
This is not a competition to find out who is "queer enough," but a space to explore connections, energy, and awareness across gender lines. It's also about integrating seemingly contradictory aspects of your personality.
You can also participate and just observe and perceive for now.

1. Introduction to the topic and tips on dealing with boundaries
2. Meditation with dance and movement elements
3. Rituals of encounter and touch
4.

Spontaneous and creative role play



5. Creative trance journey 6. Ritual to strengthen the inner core of being
7. Ritual to increase intimacy (including massage)
8. Reflection and sharing (Sharring) Dates and participants
https://www.meetup.com/de-DE/TEMPEL-DER-SINNE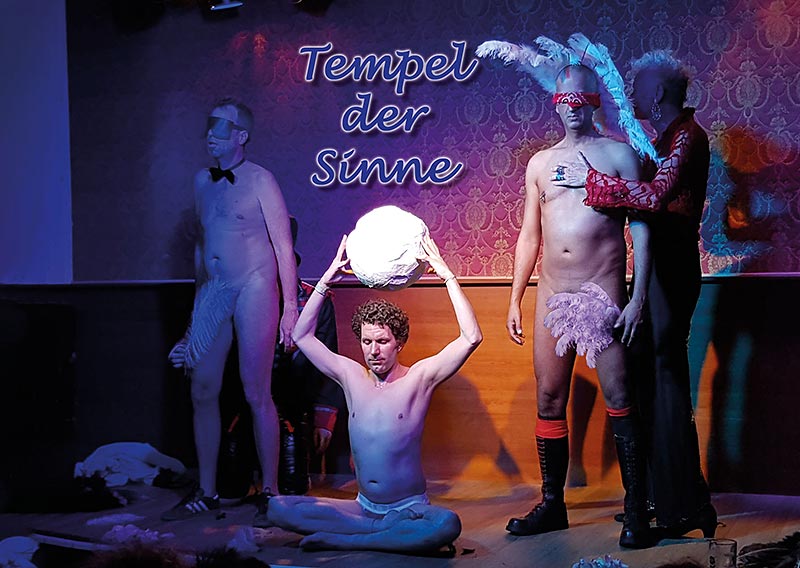 We playfully try out self-presentation, self-talk, projection with different genders. Certain ideas such as "male" (e.g. assertive, dominant) and "female" (e.g. intuitive, caring) become blurred or dissolve completely. Free from our construct of gender, we now experiment with combinations of both.
Sensual moments of touch offer you the possibility to feel deeper into yourself. You will be taken gently by the hand and decide for yourself which personal parts you would like to further develop and internalize. Afterwards you relax with massage and loving touches.
19.2. 2022 from 16:30 – 00:30 Location: Diamond Lotus Tantra Institute Bautzenerstr. 3 Berlin-Schöneberg Price: 75 €

I am happy about to create the Queer Tantra Workshops with
Dieter Rita Scholl
Performing Artist – Actor/Actress  in TV ("Babylon Berlin") and Movie("Bruma") –Chansons
See Dieter  in the short film Cold Star at the beginning of this side and on the photo right here.