TEMPLE  OF SENSES

 Most of the time we are trained to judge and act according to our physical, visual sensations. Tantra is a world that begins within us. To enter the temple of the senses, it therefore makes sense to wear a blindfold. Only in this way will you be able to enter this wondrous, mysterious, powerful, healing and beautiful world.
Dive deep into a magical dream world and let yourself be inspired. We gently open your senses in a specially prepared and protected temple room. Enjoy the warm atmosphere and become more and more a part of the whole.
Clothes are stored and guarded in a specially equipped cloakroom. Initially, forms of touch guided by the temple servants are increasingly dissolved: Rituals of veneration, touch, sensuality and eroticism can turn into completely unintentional, individual encounters. But you can also stay for yourself, enjoy the atmosphere, dive deeper and simply relax.
The offer is aimed at women, men and diverse people and is open to all kinds of sexual orientation. The visitors of this event always sound out anew when they want to observe / watch and when they want to participate / create. Let's get the boundaries flowing together.
More introverted men will find their place here as well as self-confident cross-dressers. In erotic and sexual encounters, it is precisely the opposites that can be attractive and create attraction.
When registering, please indicate whether you are coming as a temple servant or as a visitor.
Phase 1 Introduction to Tantric Rituals for Temple Servants
1. introduction to the topic and hints on how to deal with boundaries
2. rituals of encounter and touch
3. spontaneous and creative role play
Phase 2 Temple of the Senses
4. welcoming the visitors
5. blind leading into the temple
6. sense and touch rituals
Times: 27.8. 2022 from 18:00 – 23:00 / 24:00
Admission of temple attendants at 17:45
Admission of visitors at 20:00 hrs.
Location: Diamond Lotus Tantra Institute Bautzenerstr. 3 Berlin-Schöneberg
Prices:      30 € temple servants (20 € social price)
                   40 € visitors (30 € social price)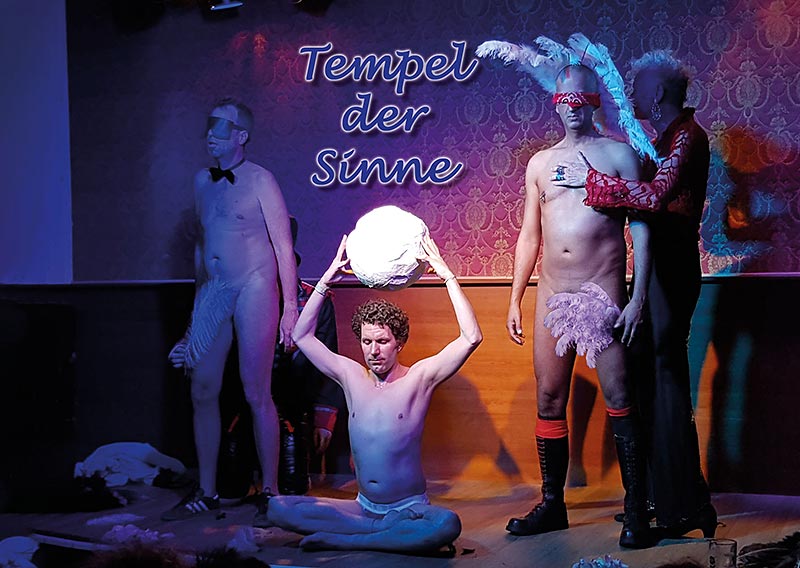 In this event you can try out the whole variety and experiment with the combination of male and female, free of gender. Sensual touch moments offer you the opportunity to feel deeper into yourself. You will be taken gently by the hand and decide for yourself how far you want to go. Afterwards you can relax with a massage and loving touches.
Directition
Kim Berlin  /   Tantric masseur and trainer
Dieter Rita Scholl / Performing Artist – Actor/Actress  in TV ("Babylon Berlin") and Movie("Bruma") –Chansons
Dealing with Shiva and Shakti in Queer Tantra
We do not have to renounce Shiva (male in Tantra) in order to embrace Shakti (female in Tantra). We don't have to give up our Shakti intuition to strengthen our Shiva awareness.
Sure, there may be times when we want to focus on enhancing or fully embodying one or the other. Maybe it makes sense for you right now to separate yourself in order to develop clarity and identity – this process can also be significant.
This event is about inspiring ourselves and others, also to polarise – in order to then reunite with them, because we have played with both forces, honoured and mastered them.