Temple of Senses
Most of the time, we are trimmed to assess and act on our physical, visual senses. Tantra is a world that begins inside us. To enter the temple of the senses, it is therefore useful to wear a blindfold. Only then you will succeed in finding the entrance to this wondrous, mysterious, powerful, healing and beautiful world. 10 Temple servants will gently take you by the hand and accompany your journey. Let yourself be surprised….
Our little temple of the senses will open its doors on December 3rd, 2020. Immerse yourself in a magical dream world. Let Dennis take you away from everyday life with a short, erotic shower ritual. Dieter, Gueray, Christian and Rainer carefully open your senses and cordially invite you to a 30-45 min. Tantra session with massage. From rituals of worship, touch, sensuality and eroticism, completely unintentional, individual encounters can result.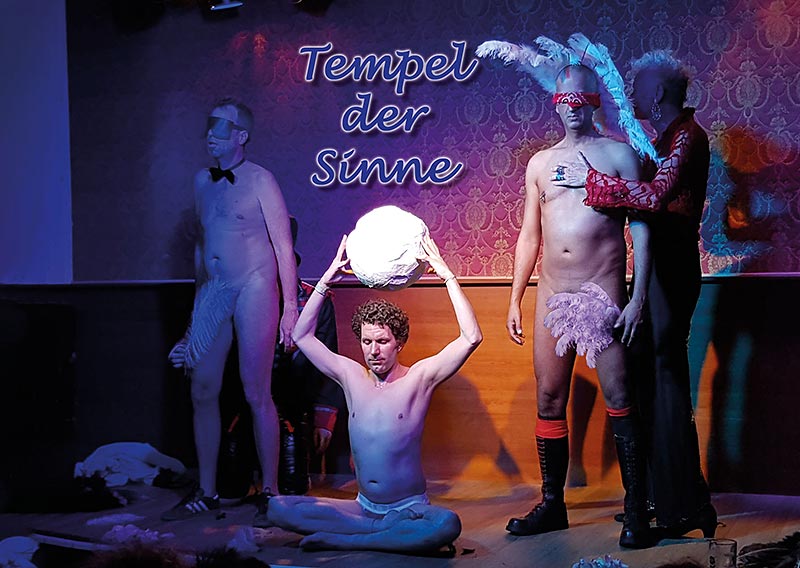 This impulse event is aimed at women, men and transgender people and is open to all types of sexual orientation.
A wonderful opportunity to get to know us and our art of touch better. We will be happy to inform you after the session which Tantra offers are suitable for you.
Simply get in touch with Gueray, Christian, Dennis, Dieter and Rainer personally. Go to TEMPLE OF THE SENSES at Meet Up under the event on December 3rd. feel free to write to us and ask your questions:
Location: Diamond Lotus Tantra Institute Baustzenerstr. 3
Admission on December 3rd, 2020
Time slot: 7:00 p.m. – 8:30 p.m.
Time slot: 8:00 p.m. – 9:30 p.m.
Time slot: 20:45 –      22:15 pm

Admission: € 20 / € 18 reduced
Please decide on one of the time slots and register using the contact form. You will then receive the account details and transfer the amount due. Upon receipt you will receive the ticket for the booked time slot.
Please bring: 1 shower towel and a large bath towel or sheet. (Alternatively, you can simply book a shower towel or sheet.)

The event is limited to 12 participants. After a binding registration, we will put you on the guest list.

Already registered as binding: 0
Tickets still free: 12