Tantra Massage Course and Training
In order to learn the elements of the tantra massage and to turn it on yourself, good intuition, technical know-how and the play with the fire (the sexual energy) is in demand. This course offers you to dive together with another man and with me 7 hours  into the magic of the tantric massage. This atmospheric offer in a small group, is above all to give you much pleasure in many different, deep touches. Together we will try again and again and playfully to the basic elements of the Tantric massage.
Throughout the day, with great joy and ease, you will be able to capture more and more of all the tools and the tantra massage process. The goal will be to develop and pass on your very own way of tantra massage. Therefore, I would like to accompany you further after the massage course and assist you with my knowledge and my advice.

This course is also gladly booked as TANTRA MASSAGE TRAINING and is therefore particularly suitable for those who want to further their professional education. In addition I invite you to a free consultation, in order to be able to coordinate the exact time frame and contents together with you.

I would like to give you advance information in order to clarify which personal and legal aspects have to be considered in order to professionally offer the Tantra Masssage. In order to achieve the best possible training, I recommend integrating aspects from the individual tantra training.

I am looking forward to your special abilities and your special way of giving a massage to develop together with you.
Period of time: 10:00 – 13: 00 and 14:00 – 17: 00. Next possibility: Please ask.

Cost per participant

175 €

(including tantra massage script, hot lunch, drinks, towels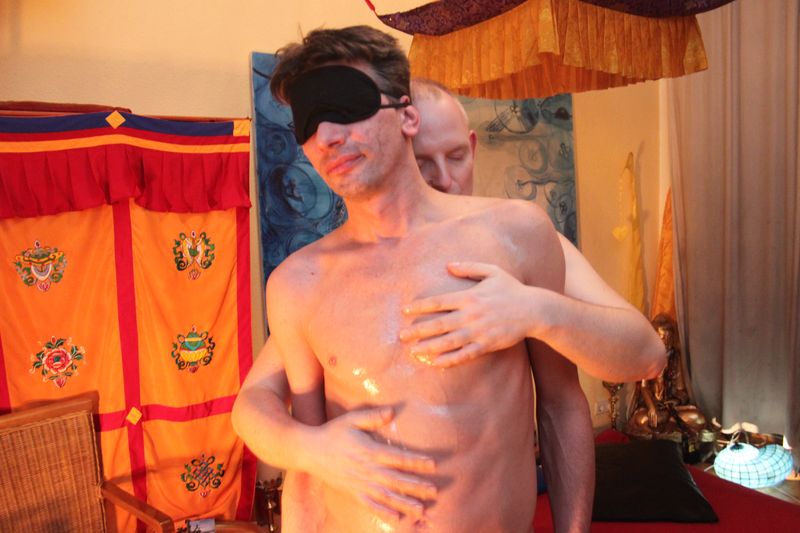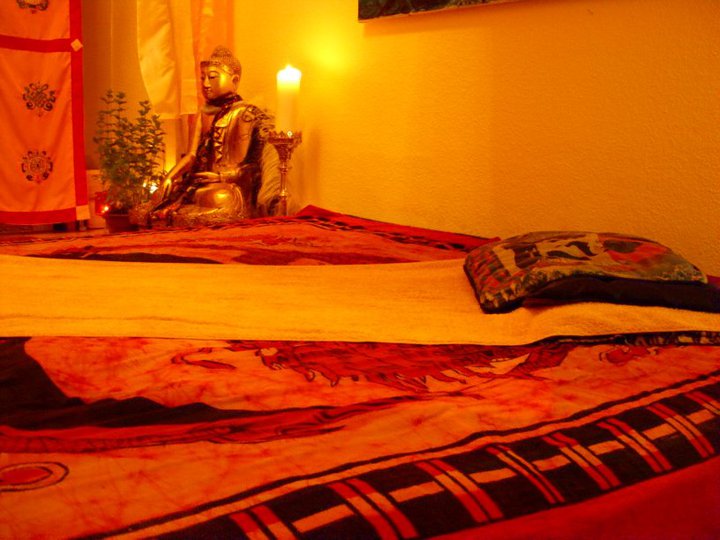 Open Tantra Group for Temple Servants
This group gives us temple servants the opportunity to swap and deepen our tantric practice. Everyone is welcome: with or without prior experience in tantra.
We are concerned with lightness, sensuality and joie de vivre. Together we realize experience spaces and fill them with tantric rituals, massage, meditation, ecstasy and creativity. Our values are respect, closeness, love, sexual liberation and intimacy. We do not need a Tantra guru. The tantric tools naturally serve to deepen the encounter. Everyone is welcome: with or without previous experience in tantra and temple services. Every evening I introduce a tantra meditation and initiate a tantric ritual. My suggestion here is to practice the new technology until the next appointment and to integrate the experience in everyday life. Twice a year we will invite guests to the Temple of the Senses and perform and present the practiced tantric rituals. We meet once a month. The current group of temple servants presents their rituals on 3.12. to the TEMPLE OF THE SENSES in the AHA Berlin. You are cordially invited to get to know us.
Participation fee per appointment:
35 € for Level 1, Level 2 and Tantra Intensive
35 € for massage, tantra training ,magic of tantra
TANTRA SEX SESSIONS 22.10. and 13.11. 19:30 pm
Experience tantric rituals in which your creativity and your personal expression are required. Relax through touch and massage. Enjoy the special group energy and let us melt boundaries together.
Be welcome if you want to raise your energy level. I also join as a newcomer and quickly make connections. You should have a certain level of physical fitness and some experience in meditation.
1. Brief attunement
Arrive and pointers to meditation
2. Kundalini meditation 1 and 2
3. Tantric-Touch: touch-energy-encounters
4. Variations of the ecstatic breath.
5. Genital massage – the intimate touch
6. Shiva – Shakti rituals to deepen intimacy
7. Follow-up in the circle of men
PLEASE BRING: Light sportswear or saron and a bed sheet. Negative, current Corona test or Imfbuch or email to massagestern@web.de
Small gift from the temple: oranges, pineapples, melons, berries or grapes
Dates 2021
Until we can meet again in a large group, I offer tantra training.
Here you will find your training partner with whom you can practice and deepen Tantra on site.
Simply write me a W app that shows your motivation and I will invite you to our W app group: + 49 157 78 09 53 57
Level 1: Couple and group dynamic exercises with tantric elements.
Level 2: Kundalini Meditation, Awareness Extending Exercises, Sexual Transformation
Magic of Tantra Sexual Transformation, confrontation and extension of personal boundaries
Massage: Elements of tantra massage, massage exchange
Important note: Your interest in getting involved with different men is required. The group is also open to trans men who want  English and German are spoken in the evenings. You decide how often you want to join the group. Participation in the workshop and at the event Temple of the Senses is not a requirement. I have raised hygiene standards (including the provision of disinfectants). In Tantra we have many options for being careful and enjoyable with each other. We talk about Infections before we start and want that you feel safe. If you have cold symptoms, please don t come to our sessions.
Registration for the individual appointments, content and exact procedure.
Dark-Eros Event
In the Dark Eros, your wears a blindfold at the beginning, without first contacting the other participants of the course.
It is all about giving control – simply letting everything happen. Sensuous impulses from outside help first contact with yourself and in the further course also contact with other participants to take on. Situations of confrontation change with phases of relaxation – so you always open your subjects of different emotions.
Now the eye mask is set off and a meditative, deeper understanding of all participants follows. In the course, individual dark-eros sessions develop, so that each participant has the possibility to share his secret and also bizarre fantasies with and live out. Take advantage of this opportunity and free yourself from false guilt feelings. Try out in a safe environment all that you've only dreamed of so far. Enjoy the transformation into joy of life.
Costs per participant: 50 €

Number of participants 3. Next Event: 27.11.2021
In the Dark Eros course you will experience successively different phases: contact and deep touch, expression and creativity, confrontation and meditation, verbalizing and living out fantasies. A final integration of all new experiences can expand your awareness. Together we create a space in which you will feel safe. Because I still point out that the course has no therapeutic approach. Own reflection and responsible action is require.
Wild Men
Spend 2 wonderful days in a small group of men. In addition, learn about various tantric rituals, massages and meditation techniques. Experience natural eroticism and deep, sensual touch with other men. A small bike tour leads us through the forest to our destination. Our house with garden is located on a large lake, which is only accessible to residents to a very limited extent and thus invites you to retreat and relax.

Sensual tantra sessions that connect you deeply with the elements of fire, earth, water and air.
After a joint preparation and personal choice of subject, you will be blindfolded. You will be led blindly into a mysterious sound garden – here you can relax and get deep inside. On a beautiful, sheltered terrace you can now receive a sensual-erotic tantra massage from two participants at the same time.
The ritual reaches a first climax by rubbing and massaging with healing earth. The journey continues and leads us past fruit trees, through tall reeds in a place by the lake. You can now experience and feel the elements of water, wind and sun completely naked. Meditative and sensual touching rituals together with other participants ultimately lead to an energetic fusion with nature.
Blindfolded it goes back into the house. You can use precious care products (rituals) to cleanse and pamper yourself with a revitalizing shower ritual. An open fire invites you to reflect together and round off the day in an atmospheric way.
Workshop Flaming Hearts
The next day you delving deeper into the magic of tantra through an erotic self-love ritual. This workshop is about lust and love and how we can bring both together. Let yourself be encouraged and stimulated to discover and explore yourself: three tantric keys help you to intuitively merge with your inner core through an exciting, meditative trance journey. Then your whole body is carefully bathed in fragrant rose petals and delicate body oil.
So you sink ever deeper into a sensual – erotic dream world. Within various touching rituals with other participants, you now consciously and intuitively decide how much closeness and intimacy you want to share and leave.
In exchange with you, I take into account the respective level of life experience with regard to body work, tantra and massage sessions. Wild Men is therefore particularly well possible and suitable for both advanced and beginners. I look forward to your questions, wishes, ideas and suggestions.
Period:
1.8. – 2.8. 2020
Time schedule:
1.8. from 12:30 to 21:00 and 2.8. from 19:00 to 22:30
Meeting point:
1.8. Tegel underground station with bike and 2.8. Diamond Lotus TantraInstitute.
You can choose to book the workshop for 40 €. If you decide for the sessions and the workshop both costs 160 €.
Possible number of participants: 5
Still free: 1