Tantra-Bath-Ritual
Beginning Of Your Bathing Ritual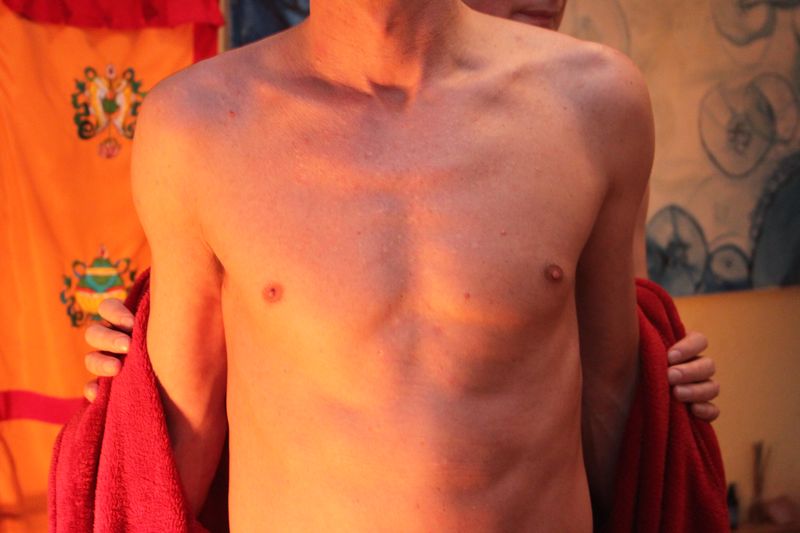 Your inner journey begins with a meditative attunement: Close your eyes, breathe slowly and you trust in my voice. Slowly we leave everyday life behind and plunge deep into the world of the senses and Imagination. Covered with soft music and fragrant, fine sparkling water your whole body will be pampered with great care. Precious soaps, oils and refined salts are gently massaged on your skin and open yourself to more experiences.
Let me surprise you ….
Prices of your Tantra-Bath-Ritual-Ritual
30 minutes Ritual of Magic Touch: 55 Euro
65 Minuten Revilazing Ritual of Happy Buddah: 85 Euro
75 Minuten Cleansing Ritual of Hammam: 95 Euro

With fruit and champagne: +10 Euro
10% discount of happy buddah- and hammamritual while booking a tantra massage from 1.5 hours.
The bathing ritual Magic-Touch is a good choice to dive deeper into all sensual-tantric elements. The many magical touches with soaps, salts and oils prepare you optimally for the subsequent massage. For the bath rituals Ritual of Happy Buddah and Ritual of Hammam I use high-quality products from the collection Rituals.*
The Ritual of Happy Buddah
conjures up a relaxed smile on your face with the scents orange and cedar wood. A little trance trip takes you to a Temple of Touch in Bali. Here you will be received by your temple servant, slowly undressed and mindfully wrapped in a golden kimono. Enjoy a loving touch ceremony with your temple servant to open your heart. Live-played sound improvisations with Koshi, cymbals, bells and singing bowls deepen your experience trip to Bali. After this meditative-sensory attunement, you now take a royal bath: Soothing is the shower foam, which unfolds in conjunction with gentle massage and warm water. A revitalizing body scrub cleanses your skin and opens all pores. After bathing, a velvety body cream spreads a lot of joy and first feelings of happiness. A precious dry oil with its fine scent of southern orange and cedar wood, sensual bathing pleasure with a subtle. A TAO Massage merge into an unforgettable experience. On request, you can book an additional temple servant or yoga teacher for this session.
The Ritual of Hammam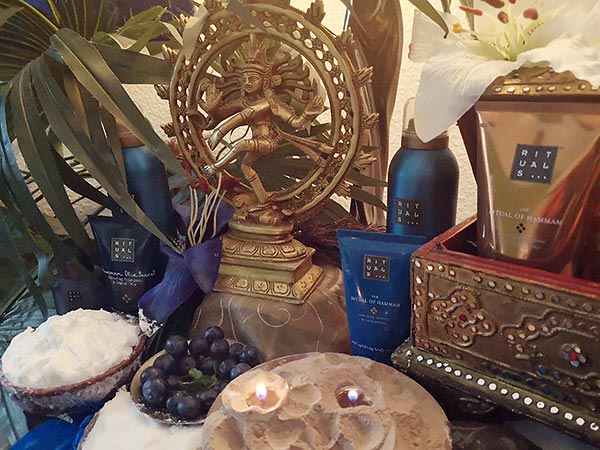 is a body and mind cleansing, erotica with the scents of eucalyptus and rosemary. A little creative trance trip takes you to the Orient. Here you visit an old, steaming hammam and meet your hammam masseur, who reads you every wish from the lips, gently touched and spoiled: First, black shower paste is applied in a circular motion on the moist skin until a fine foam is formed. With Moroccan healing clay (Rhassoul) another layer is applied. The now hammam typical, intoxicating foam massage intensifies your experience. With a lot of foam your whole body will be massaged. A body-to-body massage has an erotic effect and can increase to a first ecstatic climax. , By ritualized rinsing with warm water and subsequent body peeling – you sink so even deeper into the steam room. Again and again warm, fragrant water is poured over your body – are you slowly reappearing and growing new to life. After drying, a body cream of eucalyptus and rosemary refreshes you. A large feather fan provides a pleasant breeze and strokes your skin; Your Tantra Massage with Hot-Stones, can begin now. The hammam ritual in combination with the massage was sensual, relaxing, arousing, relaxing, exciting, stimulating, inspiring and absolut erotic and and … A fireworks of sensations, scents, feelings – ideally attuned to each other. I hope that many guests of you can and want to enjoy this offer. Great! (Guest Jürgen on 9.11.2018) * The brand name is the property of the manufacturer and stands only for the good quality of the article. The imaginary trips and tantric elements are also inspired by the nature of the products, but are not directly related to the brand. For more adventures please try the shower rituals Ayuveda and Sakura.
After your bathing ritual I invite you in my massage-temple for further adventures and relaxation.