A good and serious training to become a tantra masseur includes the following processes:
A tantra massage training, which teaches you the most important contents, the handling and the process of Tantra Massage.
A group, in which you can exchange tantra massage with other masseurs and further deepen contents.
Participation in the tantra sessions in the group to internalize rituals, mediations and the tantric energy flows.
A small internship, which enables you to conduct a complete tantra session under guidance.
A recognized training as a massage practitioner (or comparable training).
A certification (exam) so that you can offer your services professionally as a Tantra masseur.
It is obvious that it is not possible to give tantra massage professionally after only one intensive massage training. A good tantra massage training is not limited to learning procedures and massage techniques. The training at MassageStern offers above all experiential spaces in which participants become aware of their own sexuality, intimacy, sensuality and their desire to serve the guest. This is especially interesting for the participants who want to use this training primarily to achieve a higher intensity in friendship and partnership.
You can easily join and get your first knowledge of tantra massage (e.g. Yin-Yan balancing, genital massage) already in one of the group sessions. Here you can also check for yourself whether I as a trainer for you at all come into question.
You can easily start crosswise and acquire your first knowledge of tantra massage (e.g. Yin-Yan balancing, genital massage) already in one of the group sessions. A good start is also the participation in a TANTRA MASSAGE WORKSHOP. Here you can also check if I am a suitable trainer for you. After the first intensive massage training and a study at home, there is also the possibility to further deepen your knowledge at my place (small internship). An open tantra massage training group already exists and as soon as you have the necessary basic knowledge, you are welcome to participate.
If necessary, you can book additional training sessions, for example to learn the TAO massage and thus consciously expand your repert. Learning the tantric tools, massages and exposure to the tantric philosophy has above all an enormous personal effect: not only do you succeed in deepening intimate encounters, but your self-confidence gains even more strength.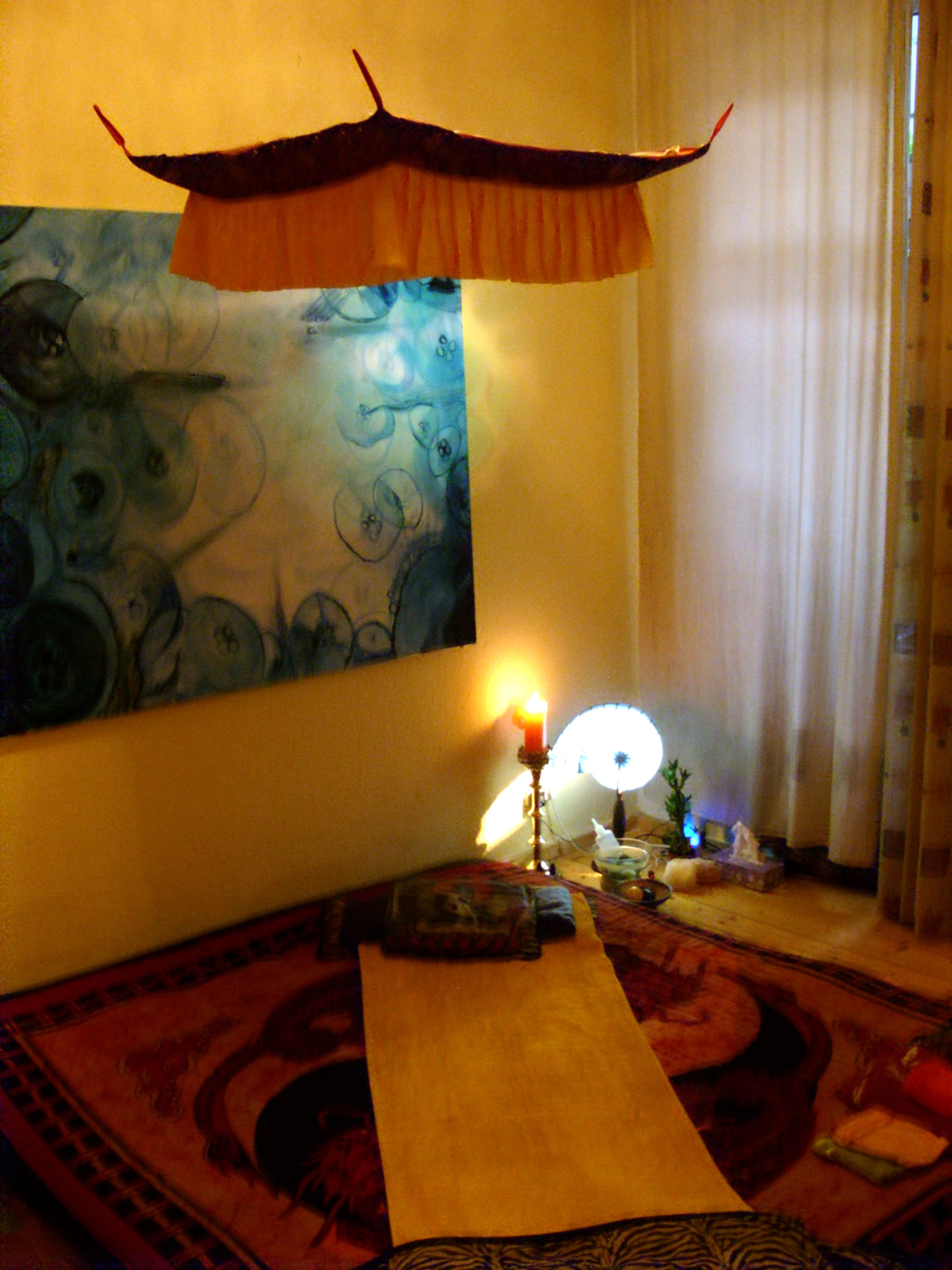 After binding registration for the first Tantra Massage Training, you will receive a folder with all important documents.
In the later course of the training, a professional collaboration will also be possible or together you will consider how you can further realize yourself independently in your (professional) context with the elements of tantra massage.
Tantra Massage Training (Basic of Tantra Massage)
Number of participants 4
Period: 17.9. and 18.9.22  /  10:00 – 18:00 o'clock
Cost per participant: 310 €  (incl. script for Tantra Massage, warm lunch and drinks + subsequent internship)
Tantra Massage Training one day: 185 €.
Tantra Massage Training one day for participants who have already completed a two day training: 160 €.